As an arborist, you rely heavily on your chainsaw for tree trimming and removal. To ensure that your chainsaw remains in good condition and continues to operate effectively, it's important to carry out regular maintenance. In this article, we'll provide you with some essential tips on how to maintain your arborist chainsaw, so it stays in optimal condition and remains safe to use.
When it comes to tree work, having a reliable chainsaw is critical. However, many arborists often overlook the importance of maintaining their chainsaws regularly. Neglecting to maintain your chainsaw can lead to decreased performance, more frequent repairs, and even serious accidents. That's why in this article, we'll take a closer look at the steps you can take to maintain your chainsaw, so it remains in optimal condition.
Why is Chainsaw Maintenance Important?
Before we delve into the tips for maintaining your chainsaw, it's essential to understand why chainsaw maintenance is important. Regular maintenance can help ensure that your chainsaw is performing optimally, and it can help prevent accidents. A well-maintained chainsaw will be more efficient and easier to use, making your work more comfortable and safer.
Chainsaw maintenance is an essential aspect of chainsaw ownership. Chainsaws are powerful and useful tools that can help with a wide range of tasks, including pruning trees, cutting firewood, and clearing land. However, chainsaws are also potentially dangerous tools, and proper maintenance is crucial to keep them working safely and effectively.
Here are some reasons why chainsaw maintenance is important:
1) Safety:
A poorly maintained chainsaw can be extremely dangerous. A dull chain, a loose chain tensioner, or a malfunctioning chain brake can all increase the risk of accidents. Regular maintenance and inspection of your chainsaw can help prevent accidents and keep you safe.
2) Performance:
A well-maintained chainsaw will perform better than one that is not. A sharp chain, clean air filter, and properly lubricated parts will all contribute to optimal performance. A poorly maintained chainsaw may not cut efficiently, may bog down, or may even stall during use.
3) Durability:
Chainsaws are built to last, but they still require regular maintenance to remain in good working condition. Neglecting maintenance can cause parts to wear out or fail prematurely, which can be costly to repair or replace.
4) Cost savings:
Proper maintenance can save you money in the long run. A well-maintained chainsaw is less likely to break down or require expensive repairs. Additionally, regular maintenance can help extend the life of your chainsaw, which means you won't have to replace it as often.
Arborist Chainsaw Maintenance Tips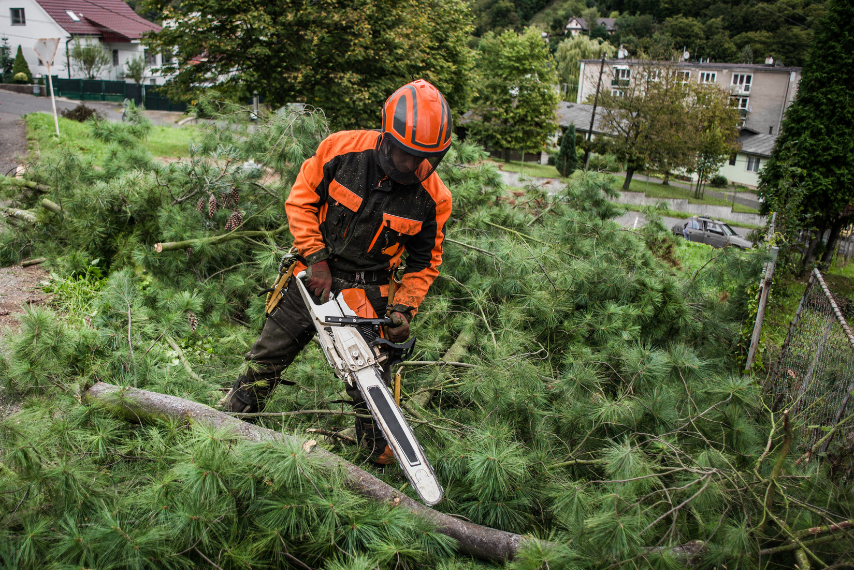 Safety First: Preparing for Maintenance
When it comes to chainsaw maintenance, safety should be your top priority. Before you begin maintenance, it's important to prepare your work area properly. Make sure your chainsaw is turned off and disconnected from any power source. Wear protective gloves, eyewear, and ear protection. You'll also need to secure the chainsaw in a vice or clamp before beginning maintenance.
Clean the Chainsaw Regularly
One of the most important steps in chainsaw maintenance is keeping it clean. Dirt, debris, and sawdust can accumulate on the chainsaw and cause problems. Use a soft-bristled brush or compressed air to remove any debris and clean the saw. Use a cloth to wipe the chainsaw's exterior clean.
Inspect the Chain and Guide Bar
Regularly inspecting the chain and guide bar is crucial to ensuring your chainsaw remains in good condition. Check for any signs of wear, damage, or other issues, such as dull teeth. If you notice any problems, replace the chain and guide bar. Don't forget to adjust the chain tension, as this can impact performance.
Sharpen the Chain Regularly
A sharp chain is essential for efficient and safe operation. Sharpen your chainsaw regularly, depending on how often you use it. A dull chain can cause the chainsaw to bind, increasing the risk of kickback. Use a chainsaw file or a sharpening tool to sharpen the chain.
Check the Air Filter
The air filter is an essential component of your chainsaw, as it helps prevent dust and debris from entering the engine. A dirty or clogged air filter can cause your chainsaw to overheat, reducing performance and potentially causing damage. Clean or replace the air filter regularly.
Check the Spark Plug
A dirty or damaged spark plug can lead to starting problems or poor engine performance. Check the spark plug regularly and replace it if necessary. It's also important to check the spark plug gap and adjust it if needed.
Maintain the Chain Lubrication System
The chain lubrication system helps keep the chain lubricated, which is crucial for safe and efficient operation. Regularly check the oil level and refill as needed. Make sure the oil ports and oil channels are clean and free from debris.
Check the Fuel System
The fuel system is another critical component of your chainsaw. Regularly check the fuel tank, fuel lines, and fuel filter for any signs of damage or wear. Replace any damaged parts and clean or replace the fuel filter regularly.
Store Your Chainsaw Properly
Proper storage is also essential for maintaining your chainsaw. After each use, clean the chainsaw and allow it to cool down before storing it in a dry, secure place. Make sure the chain is properly lubricated and the fuel tank is empty before storage.
Conclusion
Maintaining your chainsaw is essential for safe and efficient operation. Regular maintenance can help prevent accidents, extend the life of your chainsaw, and make your work more comfortable. By following the tips outlined in this article, you can keep your arborist chainsaw in optimal condition and enjoy the benefits of reliable and safe operation.